ALCUIN First Prize – GRAFIKA Great Price – A&D Merit
---
Esse – VICE: The Creators Projects – Le Devoir – La Presse – La Tribune
---
Post-Punk Art Now is the printed counterpart to the exhibition In a Post-World: Post-Punk Art Now  that was held at The Invisible Dog in Brooklyn from October 27 to November 6, 2016.
It's huge : 13.5 x 19.5″ close – 17 x 39″ open.
Post-Punk Art Now was launched at Arprim in Montreal, Quebec, Canada. October 20 – 23, 2016
Post-­Punk Art Now brings together artists and writers
— from New York: Todd Bienvenu, Michael David, Mina Pam Dick, Paul D'Agostino, Claudia Eve Beauchesne, Mandy Lyn Ford, Rafael Fuchs, Ted Riederer, Aaron Cometbus, Martha Wilson, Richard Garet
— from Quebec : Annie Baillargeon, Sylvain Bouthillette, Julie Andrée T., Sébastien Pesot, Marc-Antoine K. Phaneuf, Jacinthe Loranger, Mathieu Valade, David Clerson, Jacob Wren, Anouk Pennel (Feed)
— from England: Andrew Hussey
— from France : Philippe Nassif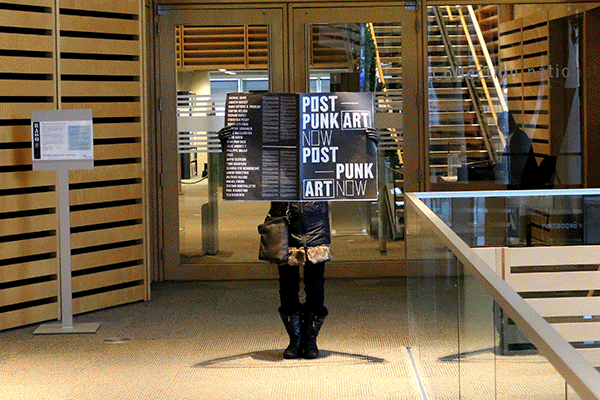 Editor : Sébastien Pesot
Publishing Director : David Clerson
Graphic Design : Anouk Pennel – Feed
Idea Man : Gilles Prince
Traduction (french to english) : Jeffrey Moore
Traduction (english to french) : Christophe Bernard
---
From the very beginning, punk was closely linked with Situationist thought, from which it borrowed its negativity, deviancy, nihilistic violence and disgust with the era. But its ties to avant-garde movements go back even further, reflecting a Dadaist arrogance, a Futurist defence of noise, an Arthur Cravan-like taste for provocation and, like all avant-garde movements perhaps, a short future. It was pronounced dead, in fact, as early as 1978 in a provocative act of self-sabotage, which was followed by countless resurrections, as if this killing were not definitive.
With Post-Punk Art Now it is this heritage that is being explored, not only in terms of ideology (DIY, anarchism) but aesthetics: its taste for ugliness, reappropriation of violence, intrinsic hybridization that excluded all dogmas, its hijacking of oppressive symbols and perception of art in terms of its negation. Like all avant-garde movements, punk wanted above all to wipe the slate clean. This project seeks to examine this new slate not with the aim of reproducing it, but rather of weighing its heritage in artistic terms, of assessing its impact on the world of today and tomorrow.
Although punk is already in the museum, we can expect it to re-emerge in new subversive forms, reflecting what it really is: a bastard cultural movement that cannot be consistently portrayed; a creative force mixed with self-destructive instincts, fully capable of toppling its own statues.
---
Post-­Punk Art Now has been made possible, in part, with support from the Conseil des arts et des lettres du Québec and with the support of donators on IndieGogo.